It is certainly possible to hack into another Whatsapp account, and this article breaks down a number of different methods you can make use of.
WhatsApp has been very successful as a messaging platform since its launch in 2009 and continuing on from its acquisition by Facebook in 2014. It is a cross between instant messaging and traditional mobile service messaging. With over a billion active users across the world sending messages across the world, it is clear that the company has found a winning formula.
Credits for gathering some of methods you are going to learn here goes to Wiper (mobile cybersecurity blog).
One of the best parts about WhatsApp is that they are committed to continuously updating the app to make it better and easier to use. Some of the latest new features include the ability to delete messages sent within a time limit, advanced group admin controls, and labeling forwarded messages as such. Other great features include voice and video calling as well as being able to change one's privacy settings to hide the last seen and message read indicators.
In terms of security, the app has quite strong features such as end-to-end encryption and two-step verification. That being said, there are certain situations where you might want to override that security and hack into someone else's account. It could be your child, spouse, or anyone else.
Hacking into WhatsApp: Five Different Methods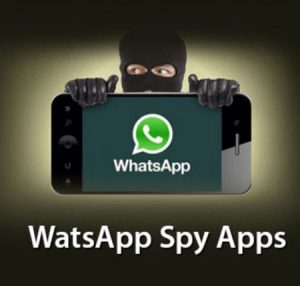 The different methods range from simple to a little more complex. Some can be completed for free, while in some cases you can purchase tools to simplify the process. The different methods also yield different results, so check out the following five methods to see which one could work best for you. A brief explanation of each method is also provided together with a summary of the pros and cons of each.
1. MAC Spoofing
This is a free way to clone someone else's WhatsApp onto your phone, allowing you to read and send messages from that account on your own phone. It is important to note that you must have access to the target phone to complete a number of steps in the hacking process. The method may also seem slightly involved, but it is very effective once you have followed the cloning instructions.
MAC spoofing works by making use of the MAC (Media Access Control) 12-digit identification number that is assigned to the Wi-Fi and network adapter. To hack someone's Whatsapp in this way, you must temporarily uninstall the app on your phone and then note the MAC number from the phone you want to hack from the phone settings in the 'About phone' section. From there, you must 'spoof' your phone by entering the MAC address you obtained from the other phone. Go on to install a free spoofing app onto your phone. If you have an iPhone, use MacDaddy X, and if you have an Android, use Terminal Emulator. You can then reinstall WhatsApp on your phone and obtain the confirmation code from the targeted device. Finally, you can restore the MAC number on your phone.
2. WhatsApp Backup Extractor
This next method can allow you to gain access to all the backed up WhatsApp messages and media from the target account. You cannot access the real-time messages using this method. To hack an account in this way, you need a WhatsApp backup extractor app such as dr.fone. This method requires you to have access to the iTunes, iCloud, or actual device you want to hack.
If you have the device in your possession, you can download and install the dr.fone app. This is specifically for an IOS device. Select repair, and start the scan. Once that is complete, you can select WhatsApp messages, and click Recover to a computer. If the phone is an Android, you can download the new Android version of the dr.fone app. An important special note, if you are using an Android, is that you must have selected the debugging option in the settings of the device. The rest of the steps are similar to those for an iPhone.
If you do not have the actual phone to be hacked, you can use a similar method from the above to get the backup from iTunes. Download, install, run the dr.fone. You can then choose Repair, click on Recover from iTunes backup file, choose the backup file, and then click on the Scan option. When that is done, select messages, and restore them to a computer. If you choose to use iCloud, the steps are about the same except that you must opt to Recover from the iCloud Backup file instead of iTunes.
3. WhatsApp Hack Tool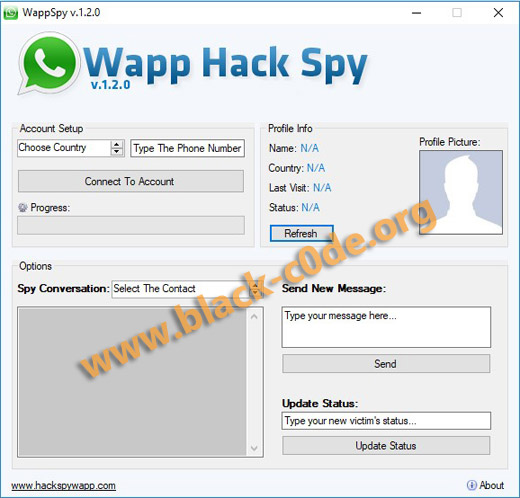 There are also many different tools specifically developed to spy WhatsApp chats anonymously. The benefits of using these are that they give you more options about the kind of information you can get and more options for how much you can access the target account. One such tool that you can use is WappRazor which you can access and download from its official website.
It is supported for mobile and desktop operating systems, which are Android (.apk), iOS, Microsoft Windows and macOS.
(Jealbreak for iOS devices (iPhone / iPad) is not required.)
This app has a lot of easy-to-use features. It allows you to hack into the WhatsApp account on another device, but it also has other features that can be used with both iPhones and Androids. These include GPS location of the target device, call recording and control, and access to all messages and media on that device. You can use a free 2-day product trial to test out the software before you purchase it. Other WhatsApp hack tools to consider include TheTruthSpy, MxSpy and 9SpyApps which is free.
4. Keylogger App
One final method you could use to hack a WhatsApp account is using a keylogger app. This can be used to record every keystroke that the user types into their phone. There are many such apps that can be used, and a lot of them are free. These can be downloaded from the websites as they are not available on the App Store or Google Play Store.
To learn more deeper about keyloggers and how they function / how to use it, check out keylogger for Facebook. Process is exactly the same for WhatsApp.
5. Hire a Hacker
If nothing of the above worked well for your attempt to hack a WhatsApp account, then you might consider hiring a professional to do a job for you.
Using our hacking services page, you may find a real hacker just for your need. Since we are only a blog who post about hacking techniques, we don't do a hacking job by ourselves. However we are open for real professional hackers to advertise themselves using our website.
Be prepared to spend some money on this one, because no any professional will do this kind of work for free, unfortunately.
Hacking into WhatsApp can be done using any of the methods outlined above. You just have to weigh out what kind of information and access you want to get from the target phone. You must also consider whether you can get hold of the phone to complete some of the steps for some of the methods.
Other ways to hack a WhatsApp account & Spy a Mobile Phone:
So, hope you'll find something which works for you.
Good luck!